Michi-no-Eki Cross-ten

The Tokamachi area's
center for industrial and
regional development!

Cross-ten was inaugurated in 1983 with the goal of vitalizing the local economy, its main focus on promoting local industries such as processed agricultural products, sake brewing and woodworking, as well as silk fabrics, the region's key industry. For this aim, Cross-ten has been engaged in developing human resources, products, and sales channels while promoting industrial tourism and interactions between people inside and outside Tokamachi by utilizing this largest facility in the area.

Since 1997, the center has also been designated as a "Road Station" (rest area) and visited by many people for shopping and food, as a central place for sightseeing in the Tokamachi area.
About the "Cross-ten" name and logo mark
"Cross" not only means a crossroad of many people and industries but also connotes "cloth," in relation to "Kimono Town" Tokamachi. And the "10" in "Cross-ten" comes from the literal meaning of Tokamachi, which means "ten-day town."
The "10" also reflects the center's intention, since its establishment in 1983, to widely promote industrial tourism by covering not only Tokamachi but also nine neighboring towns and villages, namely, Kawanishi Town, Nakasato Village, Matsudai Town, Matsunoyama Town, Tsunan Town, Yuzawa Town, Muikamachi Town, Shiozawa Town, and Yamato Town (the first four not existing anymore).
What are Road Stations?
"From towns just passing by, to towns for connecting."
"Since railways have stations, general roadways also should have stations." Road Stations were developed from these concepts. Road Stations now attract many people, not only with parking facilities for resting but also as information centers introducing local cultures, histories, popular places, specialties, and more. As of July 2009, 917 distinctive and lively places are registered as Road Stations nationwide.
Relax, rest, and refresh!
Public phones, parking, and toilet facilities are available 24 hours so visitors can relax anytime. Many Road Stations have a park and restaurants, and some even have a hot spring and sleeping place for people to relax and rest.
Fostering exchanges of people and regions
Road Stations serve as information centers in each region. Along with traffic information, the stations provide information on local cultures, histories, specialties, and scenic sites to foster exchanges to connect visitors and the local region.
Bringing vitality to towns
Road Stations trigger new relationships between regions. Such region-to-region relationships help create dynamic communities that are attractive and secure for visitors.
Offering a wide variety of local specialties and popular items!
Echigo-Tsumari Omiyage-kan
In addition to Niigata's standard souvenirs such as soba, Koshihikari rice, and Sasa Dango (dumplings wrapped in bamboo grass), this shop offers a variety of local specialties, such as fabric crafts produced in Tokamachi.
Also here is a "farm products section" selling local fresh and processed agricultural products as well as a "liquor section" offering a wide selection of sake, mainly local sake brewed in the Tokamachi area. Some products are also available at our online shop. Don't miss this chance!
More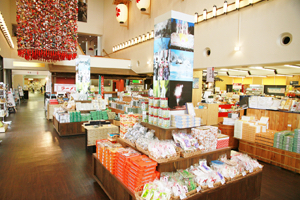 Parking and toilet facilities available 24 hours
Relax, rest and refresh
A free parking lot for 362 vehicles and outdoor toilets are available 24 hours. Next to Cross-ten is also a daytime spa called "Akashi-no-Yu" inside Echigo-Tsumari Koryukan Kinare, a well-known site of an art festival of the earth. Please enjoy a relaxing and refreshing time during your trip.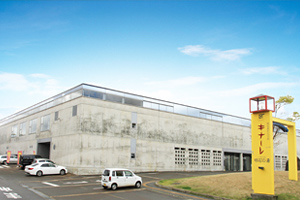 Connecting visitors and regions to create new exchanges
Place for exchanges between people and regions
Cross-ten hosts various events during Japan's long holiday seasons such as New Year's, Golden Week (in May), and Obon (in August). In addition, numerous interactions have been created using facilities at Cross-ten.

Please check our latest event information and reports on Cross-ten's Facebook page and blog!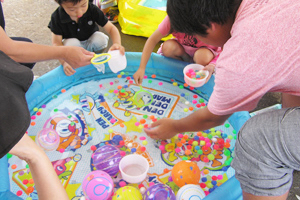 For various events like sale exhibitions, parties, meetings and workshops
Multi-purpose spaces for any kind of event
Cross-ten is equipped with both small and large rental halls and meeting rooms to accommodate various types of events, including meetings, lectures, group meals, and sales events, according to customer needs.